At the start of the opening of the Beijing International Marathon, an auto marathon is underway in Hefei, 1,000 kilometers away. On October 17, at the Olympic Sports Center in Anhui Province, with the order of Zuo Yanan, Chairman of Anhui Jianghuai Automobile Group Co., Ltd., the massive "Jiangxi and Huai Light-card Brand Relaying Qian County Relay" was formally launched.
Adjust product structure and create core competition brands in market segments

As early as December 2008, the JAC light trucks completed the integration of the brand, forming five sub-brands: Shuai Ling, Wei Ling, Chun Ling, Kang Ling, and Lucky. In particular, the introduction of the economical, cost-effective series of good luck has greatly adapted to the needs of the rural market.

The adjustment of product structure clarifies the brand communication and market goals of JAC light trucks, making it easy for consumers to distinguish the price ranges and product characteristics of different sub-brands, and enhance the competitiveness of the five sub-brands of JAC light trucks in various market segments, and further expand Market share.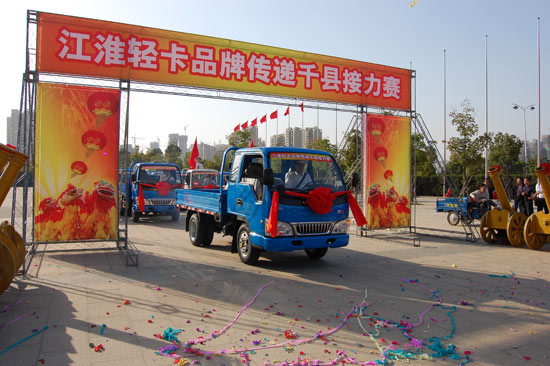 Practicing the National Policy Jianghuai continues to deepen its concept of "going to the countryside"

As early as March of this year, when the country introduced the light truck redemption policy, Jianghuai Automobile put forward the requirement of "conception to the countryside" for local marketing and service networks. From the aspects of product improvement, network optimization, unified pricing, transformation of marketing ideas, etc., we will implement the policy of car to the countryside.

To solve the problems of difficulties for farmers in buying cars and services, network construction is the key. Since the beginning of this year, Jianghuai Light Trucks has further extended its marketing network to the third- and fourth-tier markets, such as the establishment of "Jiangxi-Huiyun" franchise stores in some counties and townships, and the addition of an agent dealer in blank counties and counties, and has been established in some key regions. The county-level joint exhibition hall greatly facilitates the purchase, maintenance and maintenance of rural areas.

In addition, in order to better cope with the car to the countryside policy, JAC light truck initiative to change marketing ideas, change passive marketing to take the initiative. From the beginning of the year, "Hundreds of Thousands of Enterprises into Thousand Cities, and Thousands of Households" to a public commitment to the countryside, light trucks do not increase their prices. From the "get rich to work side by side" initiative to helping farmers directly receive subsidies, the Jianghuai light trucks have won a series of actions in the countryside. Township users are widely recognized. In the first three quarters, sales of JAC light trucks at home and abroad have exceeded 120,000, an increase of 46.4% year-on-year, and the growth rate continues to rank among the top three major light trucks.

In the fourth quarter, in order to further implement the national policy on car-to-country and to benefit the hundreds of millions of farmers through the automobile-to-country policy, the pace of urban-rural integration will be accelerated, and the implementation of the automobile-to-country policy this year will come to a successful conclusion. At the same time, the JAC light truck will be promoted. The county network construction has promoted the JAC light truck brand more deeply. From October 17th to the end of December 2009, JAC Motors held a grand event of "Jiangxi Huai Light Truck Brand Relaying Qian County Relay Competition".

Benefiting hundreds of millions of farmers and covering thousands of counties across the country

The "Jiangxi and Huai Light-card Brand Relaying Qian County Relay Competition" is composed of four teams. From October 17th onwards, it moved from Hefei to China in the four directions of southeast and northwest respectively. In the next two months or so, the four teams will pass through 20 provinces, municipalities, and autonomous regions, east to the ups and downs of Fujian, west to the roof of the world, Tibet, south to the hot Hainan, north to the cold Heilongjiang , travel more than 10,000 kilometers. At the same time, JAC light truck dealers across the country will carry out JAC light truck brand delivery activities in the same manner and in the same manner. The entire event will go to more than 1,000 counties across the country, affecting more than 500 million consumers. Its depth and breadth are unprecedented in the Chinese auto industry. The number of participants and the breadth of coverage are unprecedented.

Zhao Houzhu, general manager of JAC Commercial Vehicle Co., Ltd., said: "The 'Jiangxi and Huai Light Truck Brands' Transmission of Qian County Relay Competition' is the promotion and implementation of the national policy on automobile to the countryside, which is the consolidation and strengthening of the county-level marketing network. It is the brand of Jianghuai Light Trucks. Dissemination and promotion."

Expand brand influence Jianghuai light trucks set foot on the new journey

"When cars go to the countryside, more companies emphasize national preferences and corporate benefits. But what is more important for farmers than discounts? I believe that it is the sinking of auto companies' sales and service networks, and it is for farmers' friends. It is easy to buy and use with confidence." Said Gu Dehua, General Manager of Jianghuai Light Truck Marketing Company.

It is understood that this year, Jianghuai Light Trucks has increased the intensity of network sinking, based on the original more than 80 4S stores, nearly 300 first-tier dealers, and 500 second-tier distributors and 450 service spare parts supply outlets. The marketing service network will be further extended to the tertiary and tertiary markets in the county and townships. The "Jianghuai Light-card Brand Passing the Qian County Relay" campaign will undoubtedly expand the influence of the JAC light truck brand in the county market.

During the event, in order to expand the influence of activities and raise the concerns of farmers' friends on the policy of car going to the countryside, various kinds of policy advocacy and branding and product promotion activities will be carried out at the place where the tour will go, allowing users to "compared with Take a look, intuitively feel the excellent quality and affordable price of the JAC light truck, and invite the local Jianghuai Light Truck old users to the scene to share the experience of using the car and getting rich.

In addition, a full-scale competition will be held between the four teams and all participating dealers on the organization of the event and the effectiveness of the publicity to enhance the effectiveness of the tour.

"Jianghuai Light-card Brand Relaying Qian County Relay Competition" is not a simple brand tour, and it is not a simple product display. It is a brand culture tour. It is Jianghuai Automobile's response to the national automobile's policy of going to the countryside, strengthening county network construction, and benefiting hundreds of millions of people. Farmers' practice.

The holding of the "Jiangxi and Huai Light-card Brand Relaying Qian County Relay Competition" has pushed the implementation of the national automobile to the countryside policy to a new height.

Looker Packaging Machinery Co., Ltd. , http://www.gzpackagingmachine.com