China Motors Sightseeing Car Columns are included in the China Ministry of Industry and Information Technology Tourist Cars Automobile Announcement All 2 Categories 3 Manufacturers 3 Sightseeing Vehicle Brands 7 Sightseeing Vehicles Product Information, Latest Sightseeing Vehicle Announcements, Environmental Notices, Fuel Bulletins, Exemptions Levy announcements, pictures, news, and the most timely information on the price of tourist car quotes.

Group Profile Jiajun Group is a diversified private enterprise group. Founded in 1992, the Group has jurisdiction over Fuyang Beibei Automotive Glass Plant, Zhengzhou Jiajun Electric Vehicle Co., Ltd., Zhengzhou Jiajun Transportation Co., Ltd., and Zhengzhou Jiajun. Cultural Media Co., Ltd., Yonglin Wedding Photograph Co., Ltd. Xiangyang Head Office, Shangjie Flagship Store, etc., the company's fixed assets scale of nearly 100 million yuan, the total number of employees more than 420 people. Zhengzhou Jiajun Electric Vehicle Co., Ltd. is a new high-tech enterprise invested and built by Jiajun Group. It is the core enterprise of the Group and is the largest and most powerful high-tech manufacturing enterprise in the central and western regions. The company is located in the industrial city of Henan province— - Liyang, located in the Jiayang Industrial Park of Liyang, 19 kilometers west of Zhengzhou City, is adjacent to National Highway 310 in the south, borders the Longhai Railway in the north, and is connected to the Liyang Expressway of Lianhu Expressway. The transportation is convenient. The park is surrounded by green trees, full of shade, beautiful environment, and exquisite harmony. It is a large-scale integrated high-tech enterprise integrating R&D, production, marketing, investment and service. The company covers an area of ​​about 21,000 square meters and employs more than 150 people, including 15 middle and senior management personnel, 22 professional and technical personnel, and more than 100 marketing and service teams. The company relies on famous experts and resources at home and abroad, abundant information resources and abundant resources. The government's resources, leading technical resources, unique project resources, sound market resources, excellent customer resources, extensive partners, and other resource advantages, with "create a national brand, strong national economy" as corporate beliefs and business goals, with With the business philosophy of "Talented as a fundamental, market-oriented, quality-guaranteed, and service-oriented", the principle of "high quality, high performance, and high service" is the operating principle and business strategy, adhering to the principle of "proactive and true "Sincerity," the company spirit, making full use of the advantages of the surrounding international operating methods and localized resources, is committed to the development, production and marketing of new energy vehicles and road electric vehicles. Now there are electric buses, electric cars, electric sightseeing cars, Golf carts, electric police cars, electric hunting vehicles, electric trucks, electric engineering vehicles, electric studio orders More than dozens of categories and patented models such as vehicles have been fully listed and introduced to the market. They have represented Henan in the Shanghai and Beijing International Electric Vehicle Expo and New Energy and Leisure Electric Vehicle Expo. Due to their leading technology, novel styles, traction, and climbing The force, load, mileage, etc. are all superior to similar products of the same kind in China. They are also characterized by environmental protection, energy saving, low noise, convenient charging, and low operating costs. Jiajun electric car has been in Shanghai, Beijing, Shandong, Anhui, Hunan, Shaanxi, Shanxi, Gansu, Henan and other places of tourist attractions, hospitals, parks, factories and mines, schools, public security police, real estate, property, villa area, closed community Various areas of urban pedestrian streets have been widely used and are trusted, appreciated and cooperated by customers.

Advanced Technology Jiajun Electric Vehicle has introduced American electric vehicle manufacturing technology, in the Ministry of Industry and Information Technology, Electric Vehicle Professional Committee of China Electrotechnical Society, National Engineering Laboratory of Electric Vehicles, Electric Automobile Automobile Branch of China Automotive Engineering Society, China E-commerce Under the guidance of the professional committee of the electric class, under the direct guidance of multi-industry experts such as the China University of Technology and the Institute of Automobile Management, they are strictly designed and manufactured in accordance with the standards of GB/T 21262-2007 "Technical Conditions for Non-highway Tourist Sightseeing Vehicles". China's leading manufacturer of non-road electric vehicles. Mr. Ding Yonglin, Chairman of the company, and his expert team, R&D center, production center, marketing center, investment department and other professional teams are willing to work with their dedicated industrial spirit, professional service spirit, innovative operation methods, and outstanding brand. Dedication to wholeheartedly serve the community and create a win-win situation!

The lack of paper making raw materials is a common problem, the use of seasonal growth plants or wild trees etc for the paper pulp is an effective solution.However, using this material pulping will produce a lot of black liquor containing inorganic compounds, how can get more fiber pulp, low investment to processing black liquor which can let it reach the water recycling or reach the discharge standard of environmental protection, it has been a worldwide problem all the time.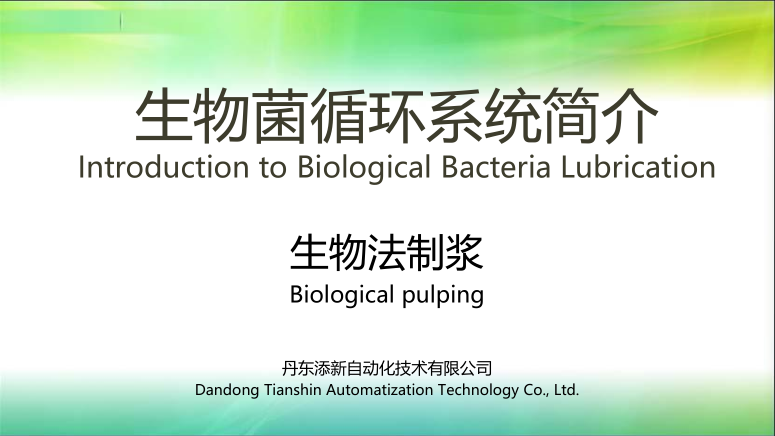 Reed Pulp Making Machine,Reed Pulp Paper Making Machine,Reed Pulp Paper Making System,Reed Pulp Making System

Dandong Tianshin Automatization Technology Co.,Ltd , https://www.paper-machine.com