Model NO.: Gelin
Voltage: 380V
Energy Saving: Energy Saving
Color: Multi Color
Condition: New
Usage: Mining Concentration
Feeding Density: 30%~50%
After Service: Supply
Place of Origin: China
Transport Package: Nude / Container
Origin: China
Type: Mineral Processing & Screening Equipment
Certification: ISO9001:2008, CE
Warranty: 1 Year
Customized: Customized
Brand Name: Gelin
Capacity: 10~200tons Per Hour, Per Request
Testing: Supply
Delivery Date: 2 Days as in Stock Now
Trademark: GELIN
Specification: complete
Alluvial Gold Mobile Trommel Screen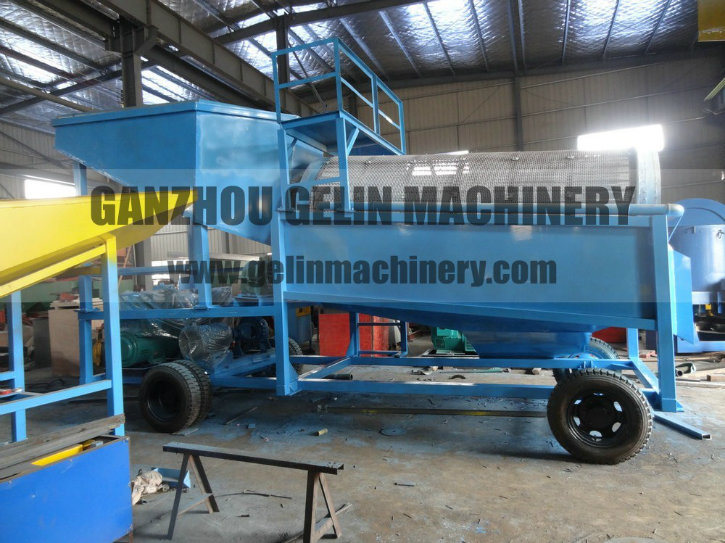 High recovery rate top quality chromite ore washing machine for sale1. Detailed Product Description of Trommel

It is a kind of combined gold mining machine, designed especially for clayed soil which is contained in the raw material, includes sieving, separating through trammel, sluice and extraction gold progress. It is with wheel type chassis, can be driven by vehicles and move easily.

2. Work principle

The roller sieve system components are round drum, framework, funnel, reducer and motor. On the one hand with the rotating drum, the materials were screened after the broken materials put into the drum, by the centrifugal force of the rotating drum to separate materials. On the other hand, large granule materials for ward flow along the slope of roller, they have been gradually weeded out when it through different meshes of screen. Different sizes of material falling into respectively funnels after screening, they moved out by artificial or move down to end product heap.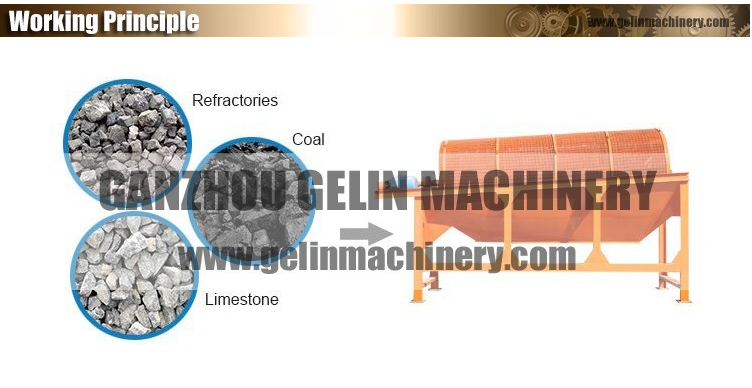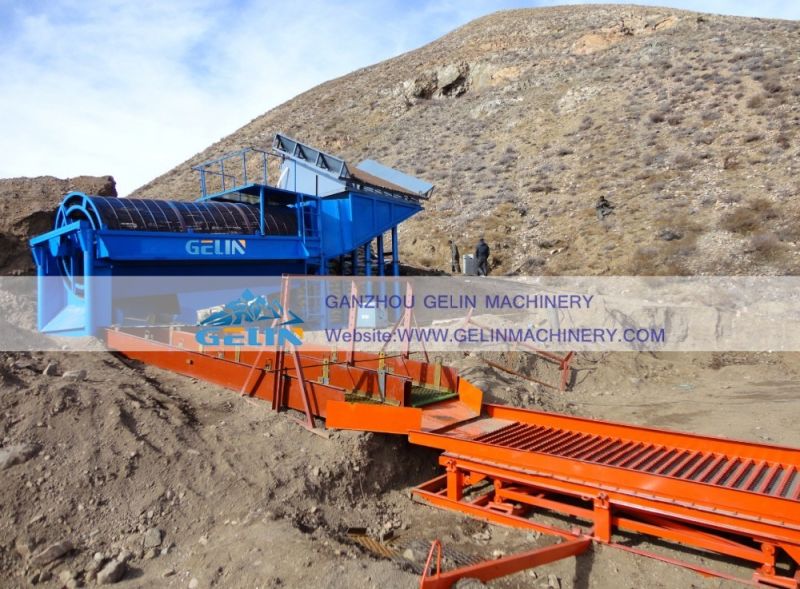 Ganzhou Gelin Mining Machinery Company Limited

 is an expert manufacturing mining machines in China. Our company is located in Guzhang industrial zone, Shicheng county, Jiangxi province, covering an area of over 30, 000 square meters, having more than 30 sets of heavy processing equipment and with an annual output of more than 2000 sets of mining machinery. There are more than 5 medium and senior engineers in our company. We have a strong R&D department and have been cooperating with domestic and overseas Scientific Research Institutes for many years. Our purpose is to track international new technology in time and promptly and make continuous innovation in technology for manufacturing high-grade equipment.

Producing Machine Products of Our Factory:

Including GOLD TROMMEL(mobile type or non mobile type), Flotation Machine, Vibrating Feeder, Cone Crusher, Shaking Table, Spiral Separator, Jig Machine, Centrifugal Gold Concentrator, Dry Type Electric Separator, Jaw Crusher, Ball Mill, Magnetic Separator, Rotary Scruber, Hydraulic Classifier, Vibrating Screen, Gold Smelt Furnace, etc.

Our Factory Can Do More:

Besides the above mentioned products, we can also design and manufacture many kinds of special mining machines and automatic processing lines according to the requests of customers.

If you are in need of detailed information, please inform us. We will provide you with total solutions accordingto your specific requirements in time.

The Influence of Our Factory:

We have passed ISO9001: 2008 Quality System certification.

Our products have obtained the title of "China High Quality Well-Known Products".

Our products are sold to more than 28 provinces/cities in China and are exported to Russia, Africa, India, the Middle East, the Philippines, Mongolia, Sudan, Kazakhstan, Brazil, America, Canada and Australia.

We have won high reputations from all of our clients for our machines and services.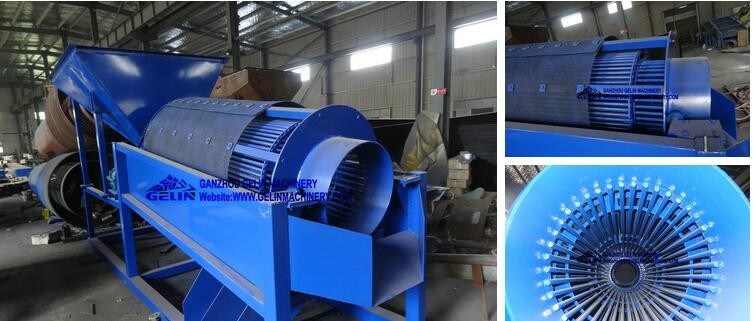 Q1. Are you a manufacturer or trading company?

A: We are a real manufacturer of mining equipments. Welcome to visit us at any time!

Q2. Where is your factory located? How can I visit there?

A: Our factory located at: Ganzhou city, Jiangxi province, China.

You can take airplane from your country to Guangzhou/Shanghai /Beijing airport, China, then, flight to Ganzhou Huangjin Airport. We will pick you up at Ganzhou airport.

Technical Data
Model
Capacity (t/h)
Wheel
Water pump
Diesel Engine
Drum
Drum length
Screen size(mm)
Weight
quantity
& water pipe
/ Electric motor
diameter
(kgs)
GL510
5-15
4
include
Diesel/Electric
500Â mm
1300Â mm
<3-20
1100
GL615
10-20
4
include
Diesel/Electric
600Â mm
1500Â mm
<3-20
1200
GL715
20-30
4
include
Diesel/Electric
700Â mm
1500Â mm
<3-20
1300
GL815
30-40
4
include
Diesel/Electric
800Â mm
1500Â mm
<3-20
1500
GL1020
40-100
4
include
Diesel/Electric
1000Â mm
2000Â mm
<3-20
2300
GL1225
100-160
4
include
diesel engine
1200Â mm
2500Â mm
<3-20
3000
GL1530
150-200
4-6
include
Diesel/Electric
1500Â mm
3000Â mm
<3-20
4000
GL1545
200-300
4-6
include
Diesel/Electric
1500Â mm
4500Â mm
<3-20
4500
GL1848
300-450
4-6
include
Diesel/Electric
1800Â mm
4800Â mm
<3-20
6000
GL2055
400-600
4-6
include
Diesel/Electric
2000Â mm
5500Â mm
<3-20
8000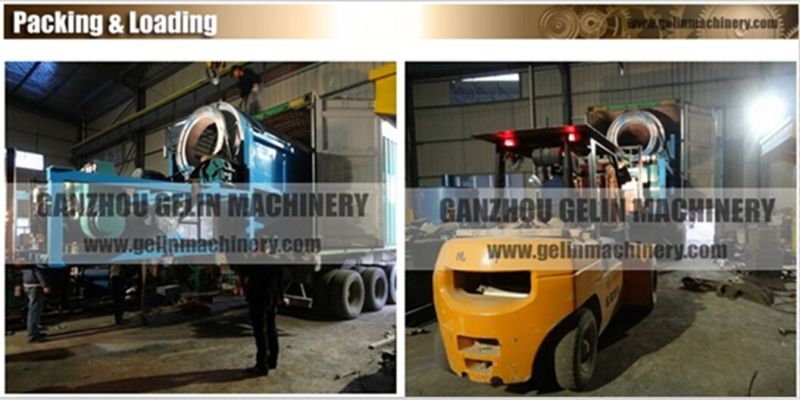 Your Power, We Can! , https://www.aerobspower.com