On November 14, the 2019 China Environmental Sanitation International Expo, which is the top domestic and world influential, came to an end. At this grand and unprecedented grand event, the sanitation industry and the times have once again converged, and the sanitation equipment is again in line with international standards. Let us review the exciting moments of this exhibition together.

The exhibition area of ​​this expo is as high as 45,000 square meters. More than 400 exhibitors made wonderful appearances at the exhibition. Various types of sanitation equipment shined, attracting many companies and industry professionals to participate in the exhibition. The scene was exciting and crowded.

Yutong Environmental Sanitation also brought a number of its star models to participate in the exhibition, which deeply fits the exhibition purpose of "committed to the development of environmental sanitation and creating a clean life", and is well received by the audience.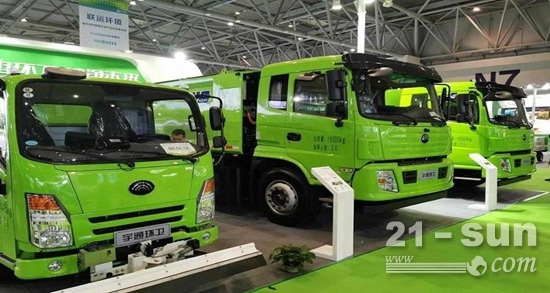 During the exhibition, Yutong Sanitation's sanitation equipment attracted numerous visitors with its fresh and beautiful appearance and high-quality and environmentally-friendly performance. The booth was even more lively. The audience was constant, and thousands of people came to visit one after another. At the scene, both professionals in the industry and members of the public who came to observe the booth showed unanimous affirmation and appreciation of Yutong Sanitation's sanitation equipment.

Sanitation operation mode roadshow is also one of the highlights of this year's expo. Exhibitors are showing their equipment. Yutong Sanitation W18 pure electric sweeper and pure electric road sweeper also participated in it.

The pure electric road sweeper is equipped with a large battery of a famous brand of 40.32 degrees, which can be fully charged in an hour, which can meet the requirements of 6-8 hours a day, and has a high degree of intelligence.
At the same time, super suction can pick up large bricks on the road, and the operation effect is very good. Because of the small turning radius, it can also work 360 degrees around a single tree, and its excellent performance is very eye-catching. After fully demonstrating its excellent operating characteristics, it also won the "Most Beautiful Painting Design Award" at this exhibition for its beautiful body shape.

At this grand event, the fiery scene in front of the booth also attracted a lot of media attention.

Zhang Xiaojun, deputy general manager of Zhengzhou Yutong Heavy Industry Co., Ltd., said in an interview with the media:

Chongqing is an ecologically livable city. It is hoped that Yutong Sanitation and New Energy Sanitation vehicles will be promoted into Chongqing and contribute to Chongqing's urban environmental construction and noise pollution prevention.

At the same time, Chongqing, as one of the 46 pilot cities of garbage classification nationwide, hopes that Yutong Sanitation will provide guarantee for Chongqing's garbage classification.

This expo is an opportunity for environmental sanitation industry exchanges. Through this grand event, Yutong environmental sanitation has also gained all the advanced experience of products and services in the environmental sanitation industry during the industry exchange process. Strength, relying on high-quality products has won unanimous praise from customers and won awards!

Take the big responsibility, walk the road, become a big device. Yutong Environmental Sanitation always adheres to the concept of "Better City Life", continuously promotes product innovation, technological change, and service upgrade, and has developed many high-quality products for improving the living environment and promoting the development of the urban environment.

In the future, Yutong Environmental Sanitation will go into more cities and continue to help all regions win the defense battle of the blue sky and implement waste classification, and strive to create greater value for customers and make city life better! (This article is from Yutong)

Related news: Yutong Sanitation Exhibition

Coupling Maintenance: Our company provide coupling maintanence according to client`s request for all different kinds of couplings, especially for Voith Geared Variable Speed Coupling from German and Ebara couplings from Japan. Coupling Maintanence including overhaul for equipment, pipe, quick-wear parts replacement and installation and trial run etc.

If you have any questions, please contact us directly. Welcome to our factory in Shenyang, China.

Coupling Maintenance

Coupling Maintenance,Coupling for Maintenance,Coupling Maintenance Coupling Joint,Flexible Coupling Maintenance

Shenyang German Machine Hydraulic Transmission Machinery Co., Ltd. , http://www.hcouplingc.com