The world's laterite nickel ore is distributed in tropical countries within 30 degrees north and south of the equator. It is concentrated in the tropical-subtropical regions of the Pacific Rim. Mainly: Cuba, Brazil in the Americas, Indonesia and the Philippines in Southeast Asia, Australia and New Delhi in Oceania. Doña, Papua New Guinea, etc.

70% of China's nickel ore reserves are concentrated in Gansu, followed by Xinjiang, Yunnan, Jilin, Sichuan, Shaanxi, Qinghai and Hubei provinces. The total reserves account for 27% of the country's total nickel resources. China's laterite nickel ore is mainly imported from the Philippines. Because since 1970, Japan and the Philippines began to cooperate in the establishment of high-grade nickel ore joint venture mining company mining nickel-containing more than 2%, transport back to the new Nippon Steel and Sumitomo smelting, lead to high-grade nickel ore in the Philippines been monopolized by Japanese companies However, China can only import low-grade nickel ore with a nickel content of 0.9% to 1.1%.

China's neighboring countries have a nickel ore reserve of 11.25 million tons, which is only distributed in a few countries. These include Russia (6.6 million tons), Indonesia (3.2 million tons), the Philippines (410,000 tons), Myanmar (920,000 tons) and Vietnam (120,000 tons).





However, it accounts for a large proportion of the world's total reserves, accounting for about 23%. Among them, laterite nickel ore is mainly distributed in Indonesia, the Philippines and Myanmar. The nickel resources in Indonesia are mainly red earth nickel deposits in the weathering crust of basic and ultrabasic rock masses, distributed in the eastern part of the archipelago. The belt can be traced from Central Sulawesi to Halmahra, Obi, the Waigoo Islands, and the Tanamela area of ​​the bird's head peninsula in Irian Jaya. Due to the wide distribution of the weathering crust of the ultrabasic rock belt in Indonesia, the laterite-type nickel-

cobalt

ore has good prospecting prospects. The Philippines is also dominated by laterite nickel, mainly distributed on the island of Nonoke. There is also a laterite-type nickel silicate mine in Myanmar, which is controlled by the ultra-basic rock belt of the Indo-Myanmar Mountains and distributed in the western margin of the Central Basin. Russia's nickel resources are distributed in the Norilsk

copper-copper-

nickel mine on the northwestern edge of the Siberian platform. The nickel mine in Vietnam is a copper-nickel sulfide type distributed in the northwest. It is known to have the Banfo deposit in Shanluo Province, which is distributed in the Tabu ophiolite belt of the Heishuihe rift, with proven reserves of 120,000 tons.

Naipu SP metal Vertical Slurry Pumps are vertical, centrifugal slurry pumps submerged in sump to work.They are designed for delivering abrasive,large particle and high density slurries.These pumps have no need of any shaft seal and sealing water. They can also be operated normally for insufficient suction duties.Wet parts of type NP-SP pump are made of abrasion-resistant metal. All parts of type NP-SP(R) pump immersed in liquid are lined with rubber outer liner.They are suited to transport non-edge angle abrasive slurry.

Typical Applications---

Sump drainage washdown
Floor drainage
Mill sumps
Carbon transfer
Monitoring


Magnetite mixing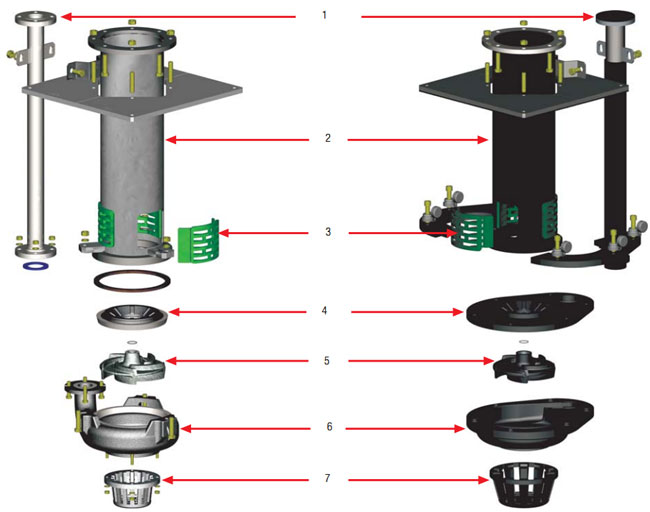 Main Part Number At The Drawing

1.Discharge Pipe
2.Column
3.Strainer
4.Back Liner

5.Impeller
6.Pump Casing
7.Lower Pipe



Materials of Construction

IMPELLERS

CASING

COLUMN

DISCHARGE

SEALS

Standard

High Chrome Alloy Rubber

High Chrome Alloy Rubber

Mild Steel
Mild Steel Rubber Lined

Mild Steel
Mild Steel Rubber Lined

Natural Rubber
Rubber

Options

Butyl
EPDM
Hypalon
Polyurethane
316 SS
W 151

Neoprene
Butyl
EPDM
Hypalon
Nitrile
316 SS
W 151

Neoprene
Butyl
Nitrile
316 SS

Neoprene
Butyl
Nitrile
316 SS

Nordel
Neoprene
Viton
Hypalon
Butyl
EPDM
Selection Chart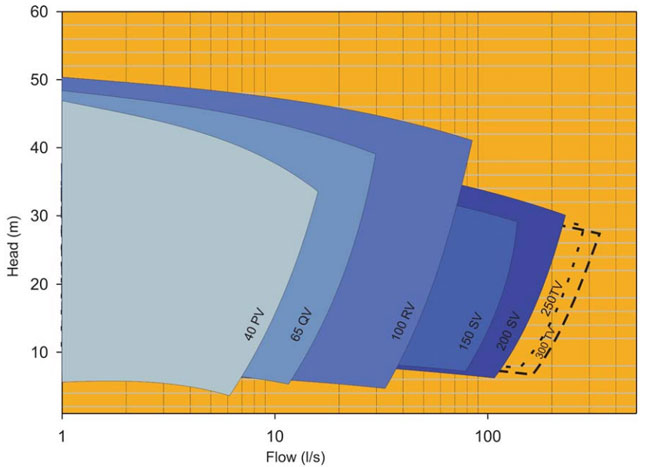 NP-SP SUMP PUMP PERFORMANCE PARAMETERS



Type

Allowable Mating Max. Power(Kw)

Range Of Performance

Impeller

Capacity/Q

Head/m

Speed/rpm

Max Efficiency/%

No. of Vanes

Impeller Diameter/mm

m³/hr

L/S

40PV-NP-SP

15

19.44-43.2

5.4-12

4.5-28.5

1000-2200

40

5

188

65QV-NP-SP

30

23.4-111

6.5-30.8

5-29.5

700-1500

50

5

280

100RV-NP-SP

75

54-289

15-80.3

5-35

500-1200

56

5

370

150SV-NP-SP

110

108-479.16

30-133.1

8.5-40

500-1000

52

5

450

200SV-NP-SP

110

189-891

152.5-247.5

6.5-37

400-850

64

5

520

250TV-NP-SP

200

261-1089

72.5-302.5

7.5-33.5

400-750

60

5

575

300TV-NP-SP

200

288-1267

80-352

6.5-33

350-700

50

5

610















Sp Metal Vertical Slurry Pumps

Sp Metal Vertical Slurry Pumps,40Pv Vertical Slurry Pump,100Rv Vertical Pump,Vertical Sump Pump

Shijiazhuang Naipu Pump Co., Ltd. , https://www.naipu-pump.com