The processing principle of the wire electric discharge cutting method is: the workpiece is clamped on the main shaft, the workpiece is connected to one electrode, and the other electrode is a wire (electrode wire). When processing, the wire is placed at the lower end of the workpiece. Position, and under the control of the micro-feed mechanism, a small amount of radial feed motion is generated, and a discharge spark is generated between the wire and the workpiece. The workpiece can be removed by feeding it vertically. The wire supported by the guide block during the process slides smoothly under the control of the motor, so the discharge is always performed on the new metal surface, ensuring that the loss of the wire does not affect the precision of the machined workpiece.

The straightness and perpendicularity of the machined workpiece obtained by this machining method mainly depend on the feed precision and rotation precision of the main shaft of the electric discharge machine, and the diameter of the final shape of the workpiece is completely predictable. Therefore, it is advantageous to realize automated processing.

In addition, the force generated by the discharge is particularly small, and the vibration and bending of the elongated workpiece can be effectively reduced. The guide block is directly located in the processing area, and the wire vibration is reduced, which is beneficial to improve the quality of the processing.

The requirement of micro-energy pulse power supply is that the electric spark machining relies on the pulse power source to deliver energy to the discharge gap, generating spark discharge and realizing the size processing. Therefore, the quality of the pulse power supply will directly affect the processing parameters of the machining, especially in the micro-machining of the electric spark. Due to the small processing size, the amount of electric discharge per discharge is small, so the minimum single pulse energy that the pulse can provide must be The control is between 10.6 and 10.7 J. In order to improve the processing efficiency, the repetition frequency of the pulse should be controlled at about 1 MHz. Therefore, in the design of the micro-energy pulse power supply, electronic components, electronic circuits and pulse technology with superior performance should be used as much as possible.

(Finish)

Goodsense forklift new generation electric counter balance forklift advantages:

-load capacity of 3000kg, 3500kg,

-High-Strength Overhead Guard

-Famouse Shell Brand Hydraulic Oil

-ISO14001 Environmental Certification,All nuts use zinc clear.

-Korean KCC painting

-Wide view Mast

-Battery can be taken out easily(two way,From top and from side)

-LED lamp

-Curtis or Zapi AC controller

-Famous brand battery and charger

-Reasonable structure,better heat dissipation for controller

-Battery water automatic replenish for optional

-Powerful AC driving motor applied to reduce maintenance cost and increase the overall performance.
General

Model

FB30

FB35

Power Type

Electric

Electric

Load Capacity

kg

3000

3500

Load centre

mm

500

500

Tyre

Tyre

Pneumatic Tyre

Front:Pneumatic Tyre

Rear:Solid Tyre

Front Tyre

28×9-15-12PR

28×9-15-12PR

Rear Tyre

18×7-8-14PR

18×7-8(Solid tyre)

Overall Dimension

Lift Height

mm

3000

3000

Fork Size

L×W×T

mm

1070×125×45

1070×125×50

Mast Tilt Angle

F/R

.

6/12

6/12

Mast Lowered Height

mm

2115

2150

Mast Extended Height(with backrest)

mm

4175

4175

Length to face of fork(Without fork)

mm

2600

2600

Overall Width

mm

1230

1230

Overhead Guard Height

mm

2250

2250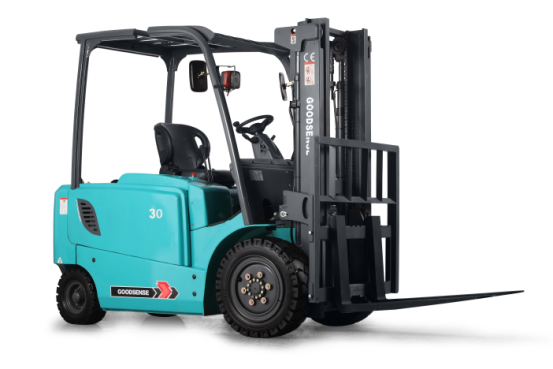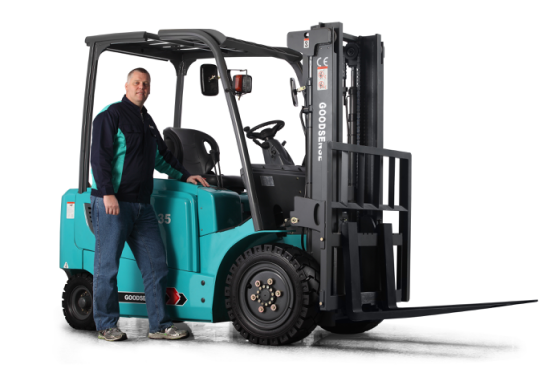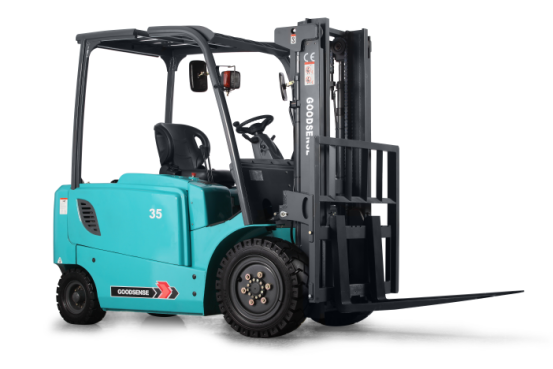 Application Area:

1.Warehouse

2.Port

3.Factory

4.Distribution Center

5.Logistics

If you have any other questions,please contact us directly.Our forklift are all with high quality,and you can choose any other engine to equip.It can be produced according to your idea.And we invite you to visit our factory.

3.0-3.5Ton Electric Forklift,3.0Ton Electric Forklift,3.5Ton Electric Forklift

ZHEJIANG GOODSENSE FORKLIFT CO.,LTD , http://www.goodsenseforklift.com